Discussion Starter
·
#1
·
Hi everybody, i know i'm new on the board... but here is a crazy thing me and a buddy of mine thought of, we did a sort of a cheap alternate intake system, but came up with a full true cold air system for the brand new Sonata 2.4L engine...
but we were overlooking at it today, we were considered getting the K&N intake system. i thought, what if we actually created a true cold air intake system, that relocates the filter complete out of the engine bay? we did a couple tests today, with the factory intake, to the open filter setup (like the above pic), and my custom cold air setup (below picture), and wow did notice a difference in sound and power between the factory intake, to the open filter set-up, to the true cold air setup... we saw a 3hp increase with the open filter compared to the closed factory setup, but when we switched out for my cold air intake, we saw a 6hp increase... we even did 3 back-to-back pulls on the dyno, just to see if they power could and would be consistent, and it was a success... let me tell you do, the sound that came from the car was completely different, a lot louder than having the open filter, because the second resonator that's located right before the throttle body, being removed made a much nicer tone...
so in conclusion i was wondering, if i do create a intake like this, would you fellow sonata people be interested in it...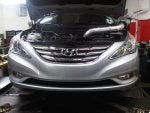 Concept-3